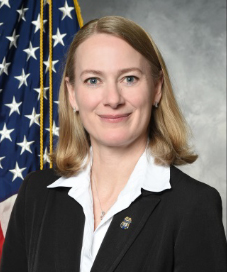 Kathy Enstrom
IRS Executive Director of Operations, Policy and Support
Internal Revenue Service
Kathy Enstrom is currently the Director of Operations Policy and Support in Internal Revenue Service Criminal Investigation. The Office of Operations Policy and Support (OPS) provides policy, direction, oversight, and support to the field offices in accomplishing the mission of Criminal Investigation (CI). The OPS's sections include: Financial Crimes, National Forensic Lab, Special Investigative Techniques, and Warrants & Forfeitures. These Sections are tasked with the following responsibilities:
Providing policy, direction, review, oversight and support to the field offices on tax and money laundering programs.
Providing scientific processing of evidence in support of field operations.
Providing policy, direction, oversight and support to the field offices relating to seizures, forfeitures, protective services and law enforcement actions. This includes oversight of the fugitive program.
Developing, directing and overseeing the use of special investigative techniques including undercover operations.
Prior to this position, Kathy was the Cincinnati FO Special Agent in Charge (SAC) from April 2013 to November 2016 and was the Acting SAC in New York from December 2016 to April 2017.

Kathy's career began in Cedar Rapids, Iowa as a Student Intern in 1995. Upon promotion to Special Agent in 1996, Kathy was transferred to Chicago. In 2005, Kathy was promoted to Supervisory Special Agent in Milwaukee, Wisconsin, St. Paul FO. In 2010, Kathy was selected for the Deputy Attaché position in Ottawa, Canada.

During the summer of 2011, Kathy was selected to participate in CI's Accelerated Senior Leadership Program (ASLP). This program is designed to accelerate the development and advancement of leaders with the ability, engagement and aspirations to become a Senior Leader or Executive within CI. As part of this program, Kathy was detailed to Refund Crimes as a Senior Analyst, and then worked as an Assistant Special Agent in Charge in the Los Angeles Field Office from May 2012 until April of 2013.